That Time We Camped Out with Brazilian Warriors
It definitely wasn't anything like this... lol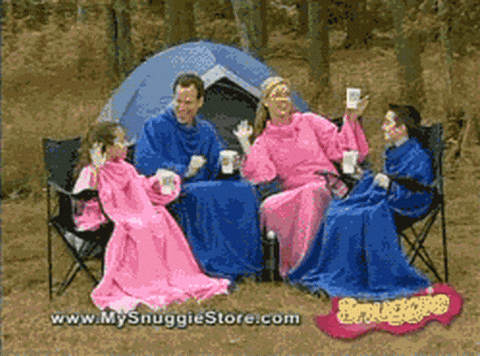 Last month, our family had the pleasure of participating in a 3-day camping adventure with Nick's co-worker, Fernanda. This wasn't your average camping excursion. What that took this from a "basic" camping trip to exceptional one? The fact that it was also a full-on cultural experience.
Fernanda is Brazilian, and a member of the Capoeira group Capoeira Guerreiros (which translates to "capoeira warriors"). While the group is open to people of all backgrounds, and anyone who's interested in studying the art of Capoeira, many of the members are Brazilian. So this meant picking up some new Portuguese vocab, listening to diverse afro-latino music, seeing some super cool martial arts and dancing, but most importantly lots of GOOD FOOD (among other things) lol!
All smiles.
This was me all weekend-- minus the chopsticks and with tons of meat on my plate. lol
That feeling when those Afro-latino vibes hit...
Anyone who knows me personally, knows how much I live for a good cultural experience; but what many people may not know, is that for a period during my high-school and college years I was OBSESSED with the Afro-Latino culture-- more specifically, that of Cuba and Brazil. Both Cuba and Brazil are known to have a concentration of Yoruba people that were exported during the slave-trade era, and to this day many of them continue to practice and follow the Yoruba traditions. My parents are Nigerian and a part of the Yoruba tribe; so as a Nigerian-American (who has been studying and speaking the Spanish language for over 20 years), I've always seen these "foreign" countries as places where I could feel right at home.
Being fully aware that the official language of Brazil is Portuguese, I've always wanted to visit these countries and experience the magic of their merged cultures (as well as that aspect of the diaspora) for myself. Earlier this year, I was finally able to visit Cuba-- and to be quite frank this camping trip was probably the next best thing to visiting to Brazil itself. Well, at least for the time being anyway. ;-)
Blame It On The Rain
As amazing as my Brazilian-inspired stay-cation was, the weather left much to be desired. The first night we arrived it was 40 degrees, and Arria was battling a slight cold-- which we were afraid would be made worse by our outdoor activities. The second day the weather started off nice, but then it began to rain (and got progressively worse). By the end of the second night, our tent was literally soaked through and we were forced to evacuate into another tent. We thought we were safe until the next morning, but later that night we noticed that tent had also started to leak through. Talk about putting a "damper" on things. lol
Eventually the rain did stop, but the fun didn't. Through all of the crappy weather, cold, and rain, the group never let up on the good times-- they just popped up a couple of tents and let the good times roll. And roll they did: with lake fishing, dancing/fighting on a floating roda, open-air live music through the night (with mics, a DJ set up, drums, guitars, and amplifiers!), plus a ton of delicious Brazilian barbecue!
Hit the play button above and check out the full vlog of our Capoeira experience. If you like the video, please SUBSCRIBE to the channel so you don't miss any of our future #LiveRi¢h adventures. In the meantime, if you'd like to learn more about the Capoeira Guerreiros group (including classes and future events), check them out online!
#LiveRi¢h, and Happy Dream Chasing!
Xx,
E
#EricaLasan #AdventuresOfALiveRichMommyTBT #NicholasReid #loveandmarriage #ArriaReid #marriage #Camping #SummerFun #Summer #Laborday #Capoeira #CapoeiraGuerreiros #Dancing #AfroLatinoCulture #AfroLatino #LiveRichAdventures #SalsaSamba #tent #OutdoorFun #familyvacation #QuEricaTV #family #MommyBlog #easymeals #love #Funthingstodo #MomBlog #DayOut #Coupling #QualityTime #Parenthood