The Art of Great Gift-Giving (During the Holiday Season and Beyond)
Hint: It doesn't revolve around malls.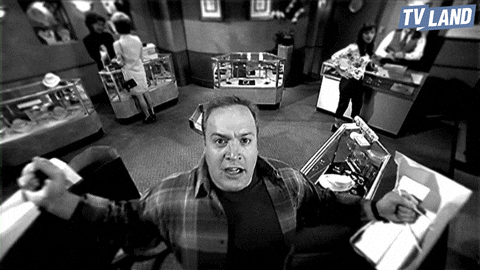 My Holiday Rant
I hope this doesn't come off grinch-y. :(
The Holidays are legit my favorite time of the year. Not because it's the season of "getting", but because it's really a season of being-- being with family, being joyful, and being at peace with much that has happened throughout the year-- and all while looking forward to the fresh start that the new year promises to bring. On the other hand, The Holidays can also be a season of great stress and pressure-- pressure to deliver gifts, stress around budgets, and just the overall commercial burden to acquire stuff (for both yourself, and others).
For me as a believer, Christmas serves as a celebration of the birth of Salvation through Christ Jesus. But it seems to me that what has come to take precedence above everything (especially precious family time) is the commercialized aspect of the season.
Earlier this year I started telling my family and close friends that when it came to celebratory events like my birthday, holidays, and even anniversaries, I didn't want more stuff but that I'd rather share an experience with them. As a mom, this is something that I would also like to implement with our children. This way, in addition to really appreciating the gifts they do receive, they will hopefully grow to value time spent with those who love them most. On top of this, I've also recently read The Life Changing Magic of Tidying Up (suuuuuuchhh a great read!), so I'm really over Holiday stuff. lol
Now don't get me wrong, I love gift-giving and sharing in general; but what I don't love about this particular time of year, is the emphasized pressure and expectation to get (and receive) them. Gifts are defined as "a thing given willingly to someone without payment". So while holiday gifts aren't being demanded "with a gun to the head", for many people the expected gift exchange can feel as though the willingness is being taken out of the typically voluntary routine. Let's be honest, sometimes this assumed exchange is the only thing that fuels our motive for holiday shopping at all. You feel me?
Okay, this concludes my rant, now for the titled message...
The Art of Great Gift-Giving
Unless your gift recipient is anything like my younger sister Beverly (who keeps a shared Amazon wish list on deck at all times, lol) the act of gifting can become the ultimate guessing game. Guessing what the person may like, want, or need, and even guessing whether or not the final selection will be enjoyed or used at all.
I've always felt that gifts shouldn't merely be quick purchases that are received, forgotten, and ultimately added to a clutter pile; but that gifts should be thought out to put the recipient on track to achieving a vision, goal, or dream. Perhaps it's something they may not have been able to afford, maybe it's a vision that they've had but have been putting off for some time, or perhaps it's something they've been too embarrassed to pursue on their own. This is the best time to show you've been paying attention and are invested in their future dreams and ambitions-- and that you believe in them too! :)
I also believe that experiences make for the best gifts. The accumulation of physical presents can eventually lead to clutter, but the gift of an experience is clutter-free and forever! :) Experiences can lead to some of the best memories, especially when they lead the receiving party to discover something new/outside of their comfort zone! With experiences you never know what to expect, or how you may change a person's perspective or life. The bonus: At the end of the night, a simple picture makes the perfect keepsake. Pictures take up minimal space, can last forever (when preserved correctly or saved digitally), and they'll more than likely always evoke a sense of joy. ...and isn't joy and happiness ultimately the reaction that we all hope to receive? It's so rewarding!
A great place for sourcing experiences (as gifts) is the internet. Two of my favorite places to look are Groupon and Living Social. Need a good reason to consider gift shopping this way? Here, I'll list 7!
You can do it from the comfort of your home- Absolutely no driving time is required, meaning: no traffic, no wasted gas, no time walking aimlessly from store to store, and no lines!!!! In addition to this, the gift can even be emailed and delivered on the spot. Boom, just like that you're elevated to Santa-gifting-gangsta status (if ever such a thing existed). lol

The options for gifting are already organized, and easy to search- You can peruse the menu of options in case you need inspiration, or you can search for the exact experience you're looking for. Either way, you'll have plenty of fun gift options available at your fingertips within seconds.

You can customize your search geographically and based on location- If you're like me and live away from your family (or outside of your home state) you can customize your search location. This ensures that your giftee will always be able to use their gift no matter where they are relative to you. Plus, the experiences vary from location to location so you're always bound to discover new experiences and won't get bored while gift-shopping!

Use of the gift voucher can be something that the recipient looks forward to- It's something that the recipient can work into their schedule and savor when the moment calls for it. Many of the Groupon and Living Social vouchers have a time period in which they must be used in order to get the promotional value (somewhere around 6 months to a year) which is plenty of time to make time for fun!); but for the most part, the purchase value itself doesn't expire. So you never know when the gift will be redeemed, but you can trust that it will make them happy whenever it is.

You can make it a two-fer, and purchase one for yourself as well. This way you (as the gift giver) can not only witness the joy of the recipient as they receive the gift, but you can also take part in the joy of the gift itself! This action will ensure that the gift actually gets put to use, and can double as a date-night/friend's day. The icing on the cake? You would have created yet another great memory for the books with your cherished friend and loved one. Who knows, you might even learn something new about him/her in the process!

And for the procrastinator in all of us, online gift experiences can be purchased last minute. Not that I'm encouraging this (because it can potentially lead to more stress than good), but what busy #LiveRi¢h mommy or daddy, doesn't like that as an option?

You can do it from your phone. I mean, seriously.... it doesn't get any easier than that!
Check you out multitasking; giving gifts, and strengthening the bond of your relationships at the same damn time!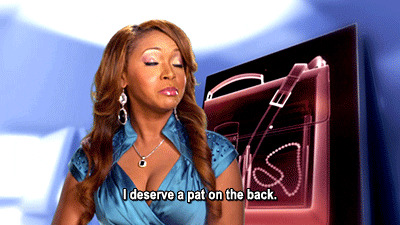 Anyway, that's my rant along with my insight on the art of gift-giving. I hope that this perspective helps with future gift buying challenges, and that you enjoy the process of discovering new ways to surprise your loved ones! I wish you all Merry Christmas and Happy 2018 to come!
#LiveRi¢h, and Happy Dream Chasing!
Xx, E
#TheLasanFamily #TheLasans #Maryland #Baltimore #family #AdventuresOfALiveRichMommyTBT #MommyBlog #MomBlog #TheLiveRichJourney #AtHome #Parenthood #BaltimoreMaryland #QualityTime #Family #TheHolidays #Christmas #HolidayShopping #Giftgiving #Gifts #Gifting #GreatGifts