The Wonderful World of Wakanda
Today the world joined in the celebration of black power, black beauty, and basically all things black and fabulous-- with the release of Marvel's Black Panther movie. The movie, staring a solid roll call of top notch A-list celebrities, has been highly anticipated since the character's cameo in The Avengers: Age of Ultron movie back in 2015, and news of its potential release surfaced back in 2016.
My family is a Marvel family. Fo' real ya'll. Before I left for college, we started making it a tradition to watch all of the Marvel movies in theaters. Now, even though I no longer live in Baltimore, my brother Brian still makes it a point to make sure we're all up to date on the latest Marvel releases. That said, you can only imagine how hyped we were about this movie. Well, the day has FINALLY arrived and we couldn't be more thrilled. I'm literally due to have my baby any day now, but my siblings and I have been planning our Black Panther movie night since Thanksgiving of 2017.
Since I'm super pregnant, the sibs all made plans to travel from Baltimore up to New Jersey so we could watch the movie together in theaters like old times. It was serious: vacation days were used so they could take time off work, we purchased tickets two months in advance (to avoid the opening night sell out), and we all made an effort to bring out some our Naija apparel. ...Even in my full-term preggo status I managed to figure something out. :)
Walking out of the movie theater I couldn't help by felt like a kick-ass Wakandan warrior Queen... Everything about the movie just made me proud: Proud to be black. Proud to be African. Proud to be alive in this cretive age where a black director can take risks in celebrating his love for the culture and an appreciation for comics (which in the past was typically reserved for "geeks and weirdos").
I'm not going to say much, because obviously I don't want to ruin the goodness for you all.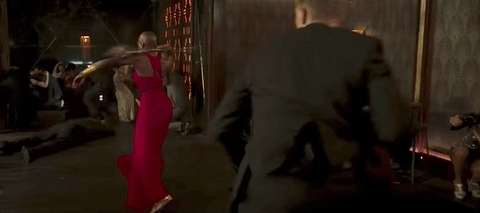 But all I can say is SEE IT, SEE IT, SEE IT... The cast incredible, the directing is on point, the cinematography is superb. You won't be sorry, your mind will certainly be blown, and you'll be walking around for weeks reveling in the glory of everything that is #BlackAndBeautiful. Let Hollywood know that our stories matter, and that seeing more people like us on screen is not only necessary, it's also financially beneficial to the industry.
Anyway, check out pictures from our family movie night below!
#LiveRi¢h, and Happy Dream Chasing!
Xx,
E
#BlackHistory #BlackHistoryMonth #50ReasonsILoveMyBlacknes #TheBlackPanther #BlackPantherMovie #family #TheLasanFamily #TheLasans #EricaLasan #pregnancystyle #fulltermpregnancy #pregnancy #pregnant #marvel #marvelmovies #Wakanda #Wakandaforever #blackpower #MyLife #AdventuresOfALiveRichMommyTBT #MommyBlog #MomBlog #Funthingstodo #Maternity #Family #LiveRichStyle #Belly