Hey there #LiveRich Mamis!
It comes as no surprise that I LUUURRRRVE a good thrift! I mean, for realz, what's a #LiveRi¢h life, without a fab wardrobe that looks like it cost a million bucks (and doesn't molest your wallet)? Sure it may be a stylish life, but it's one that your closet you probably paid too much for.
One of the thing I hear most when I share my thrifty finds is, "I can never find anything when I go to the Thrift Store." As true as that statement may feel, if you're not a seasoned thrifter you know that it is not at all true. For some thrifting may feel like a fine art, but consider today's post is crash course in Thrifting 101. If you follow these 6 simple steps before your next trip to the thrift store, I'm sure you'll come home with a smiling face, a happy wallet, and some stylish threads (with brag-worthy price tags). Take it from a millionaire... Mark Cuban knows what's up
First things first. It's all about Strategy...
1. KNOW THY CLOSET - take stock of what you already have, what you need, what you want, and what you can get afford to get rid of. Organizing your closet before hitting up a thrift shop (or any shop, really) can be a huge help. Not doing so could be compared to going to the grocery store without checking your fridge and pantry first. Where they do that at??? How can you even begin to figure out which areas of your wardrobe need love if you haven't assessed everything you already own.
Aside from taking inventory, this particular tip is also very helpful because it helps you (as a shopper) know exactly which area of the store to focus your efforts on. This will more than likely result in you taking your time in this space, and hopefully selecting more pieces to try on. We'll discuss more about that later.
SN: If you live in the Tri-state or DMV regions and are unsure of where to start in your closet assessment, I can help! :) In addition to personal shopping, I offer a service where I do closet consultations and assessments. Feel free to contact me for rates.
Having an idea of what works best for your body-type as well as what some of your personal style preferences are (if you have any) can also help your shopping experience tremendously.
For example: I know that I personally have a strong affection for things that are sheer, have a cool geometric patterns, crop tops, and harem pants. Anything that falls into any of those categories (even if I'm not completely sold on it at first glance), usually always makes its way into my cart, and eventually, my closet.
2. MAKE TIME - consider the amount of time you have to spare while in the thrift store. Envisioning your closet, head to the area of the store where the articles of clothing that you're most lacking are located.
Example: if you just got a job and are in need of work pants or a nice casual dress, head straight to the pant section, or the the dresses (obviously not the gowns). Think about which areas will get you more "bang" for your buck, and more "ooh" for your closet. You want to feel accomplished and productive at the end of your thrifting haul!
3. TIS THE SEASON - Style is a reflection of what you're feeling and the things that are happening in your world. What do you need most for your closet at this particular season of your life?
For example: Given my newly minted mom-of-two status, I'm in need of quick easy pieces that don't require much thought in styling-- so for now I tend to gravitate towards dresses, jumpsuits, and rompers. I also recognize the need for pieces that have buttons up the chest (for breastfeeding purposes). That said, whenever I come across anything that meets those criteria, I smile and do a shoulder shimmy.
4. DON'T BE SHY, ACCESSORIZE - Don't underestimate the power of accessories! While shopping, don't forget to check out the accessories section of the thrift store (or consider bringing some of your personal favorites from home). I'm talking belts, scarves, and even purses if you need the inspiration. Try on your thrifty finds with accessories and style them the same way that you would wear them out. A lot of the art in thrifting comes from thinking outside the box, getting creative, trying something new, and just having fun!
That face you make when you were on the fence, but then another shopper tries to get at your thrifty finds ... Eyes: "Back up mayne, I saw it first!"
5. CONSIDER COST - How much you want to spend in your trip? In the thrift world the stuff is inexpensive, but costs can add up fairly quickly if you're not careful. Time permitting, try on absolutely EVERYTHING that interests you-- but only take home the things that you're OBSESSED with and that bring joy. This way you don't end up with a cluttered closet of pieces that seemed like a good idea once upon a time-- but have never end up seeing the light of day.
...You may enjoy shopping at thrift stores, but that doesn't mean that your closet needs to become one.
6. EXPRESS YOURSELF - The most important ingredient to a quality thrift haul is this: simply HAVE FUN! Bring a friend and make a day of it. The greatest thing about thrifting is that it allows you the liberty of getting creative with your fashion and style choices-- without having to break the bank! Consider this a blessing to your wallet and an opportunity to show off your true sartorial colors.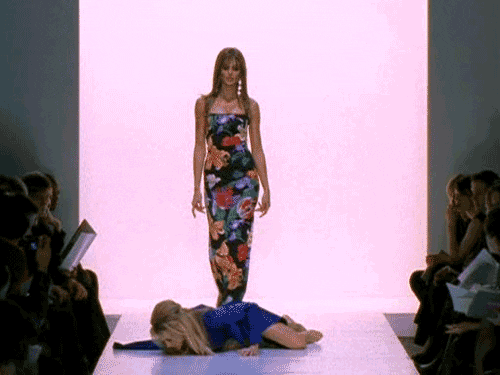 Express yourself ...but don't be a diva about it. lolol Forgive me, this is horrible, but for some reason horrendously funny.
Need some more thrifty inspiration? Check out some of my other #ThriftyThursday posts, and if you're in the NJ/NY area and in need of a personal shopping consultation (or personal shopping session/closet assessment), please feel free to CONTACT ME, or send me a message through Instagram. I would love to work with you!
Lastly, if you know another Live Rich Mommy or friend who may find this post helpful, please share! Thrifting is more fun when its shared with everyone.
Until the next time: Stay cute, #LiveRi¢h, and Happy Dream Chasing Mamas!
Xx,
E
#thrifting #thriftshop #thriftstore #niftythrifty #ThriftShop #ThriftyThursdays #Fashiononabudget #LiveRichStyle #StyleOnabudget #SavingMoney #moneysavingtips #money #pregnancystyle