Until it Happens To You: Part of My Black Motherhood Experience
Hey there #LiveRi¢h fam!
Last week a 17 year old boy named Antwon Rose was shot and killed by a freshly sworn-in officer. Though he may not be my son, just thinking about his life is another reminder how everything in the world at any given time affects us all (even when it doesn't affect us personally).
I've been wanting to write this post for a while (before Antwon's death), but wasn't sure that I had the emotional energy needed to navigate my feelings and express them articulately.
I'm still not sure that I do, so please bear with me.
Gender Reveals and Guessing Games
During my first pregnancy people kept asking me if I wanted a boy or a girl. And to be honest, I had never considered wanting one more than the other-- I just wanted a healthy baby. But as the months passed and my due date approached I would hear more about the craziness happening in the world (like Trump potentially becoming president). I couldn't help that feel that maybe it would be nice to have a girl. Don't get me wrong, hate and racism here in america have no bounds-- especially when it comes to gender. But even with that in mind I couldn't help but think that maybe if my child was a girl, if there was a moment where someone felt "threatened" by her blackness there would be a pause where they would consider her less threatening because she's a woman. I know, it's ridiculous. But these were real thoughts.
Then Arria was born; she's a girl, super sweet, and has personality for days. Everyone who meets her loves her. So for two years I took a breath figuring that all I can do is love her, and raise her to love herself: black skin, thick curly hair, mixed-cultural background (Jamaican/Nigerian) and all.
When I found out that I was pregnant the second time around, we decided again that we didn't want to know the gender. This time around when people started to ask the "what do you want?" question, I hadn't given it much thought because... well, I'm the parent of a toddler. I barely have time to pee or shower alone during the day, let alone worrying about the things I can't control (like my baby's gender) .
Then (SURPRISE!) our handsome sweet-faced boy, Jaiyce was born. We packed up and moved to Chatham, NJ two months after.
Times Like These
I shared a little about our new condo in an older post. Not to sound snooty or anything, but the area where we currently live in is really nice. Like, so nice that when we've mentioned the town name to people (who are familiar with Jersery) some have made remarks like "Wow, Chatham? That's a really expensive area." -__- That said, you can imagine how many people [looking like us] are walking about town. The answer is not many. Less than 1 percent to be exact. We knew this going into the purchase of our new home, but we didn't allow it to phase us. The area is totally worth the investment, and the school systems are ranked some of the highest in the country. So the move was a no brainer.
What we didn't bet on, was just how much the lack of diversity and color in our new community would affect how we operate on a daily basis. Don't get me wrong, no one has done or said anything threatening towards us, but in the two months since moving...
The following thoughts have crossed my mind (a couple times, if not once):
We need to say "hi" to any and every person we see (even if in the moment we don't feel like it)

We need to get heavily involved in the community so they know our faces

We should attend the neighborhood watch meetings so they know that we live here

We should change our licenses ASAP so if anyone stops us we have proof that we live here

Man, I want to go on a run, but it's already dark outside

I can't go on a run because it may make me look suspicious

Nick, please don't go running once it's dark outside

We need to attend all of the HOA meetings

What can we get the kids into around here so people recognize our kids as they're growing?

At the playground: Will Arria make any friends, or will the kids ignore her/us?

Do people think I'm running/taking a walk around the neighborhood to scout the place?

Are they wondering where I came from and why we're here?

When Jaiyce and Arria get older will the neigbors know who them (so they won't call the cops)?

When Jaiyce and Arria are in High school will it be safe for them to hang out late in the neighborhood without trouble

At some point we need to sit down and have "the talk" with both of our children.

When Jaiyce gets older, if he's wearing a hoodie and goes out on a run around this neighborhood could he end up like Trayvon Martin?
You get the idea.
Some of you may be reading this list thinking...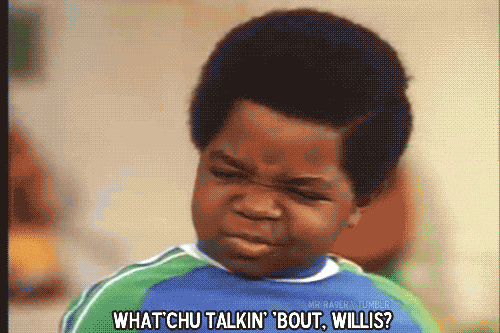 Others of you know exactly what I'm talking about.
This is dialogue that I never had to internalize prior to Jaiyce being born. Considering all of those questions in an effort to make other people feel comfortable with us-- in the place where we live. Yes, our neighborhood is super safe; but it can be said that in some ways it may be safer for some more than others. Especially when "suspicious" activity, and calls to the cop (by the neighborhood watch) can be onset by going on a jog, or our family taking an afternoon walk.
A couple years ago I did an episode of my street-show, The Underground based around black men and their experiences with law enforcement. You can watch it here. Listening to their experiences alone would warrant me asking myself the questions listed above-- especially now that I am a mom with a son of my own.
I'm sure that some of you may think that I'm being paranoid. That could be the case, but it also has to be understood that this is my truth and my experience. Not only that, but this is a reality-- perhaps not for myself, but for many other mothers of black children in this country. Trump is our president. Racism exists. People are being separated from their young children. This isn't fiction, the slave "era" or the late 1800s. This is present-day America.
In a1985 civil case (Tennessee vs. Garner) the Supreme Court ruled that under their fourth Amendment right, law enforcement officers have the right to use deadly force (i.e. shoot to kill), against a potential suspect. This was only to be done if [he/she] "has probable cause to believe that the suspect poses a significant threat of death or serious physical injury to the officer or others."
This law is based on feelings-- by the time the facts of a situation are laid straight, it's almost always too late. A parent has lost a child, a child has lost a parent-- and no matter you slice it, a life has been taken (innocent or not). What if my child runs because he feels threatened in the situation? Is he just supposed to stand there and wait while a gun is pulled to his face (like Mike Brown)? Does he not have that right to protect himself from a potentially trigger-happy cop?
What happens if the officer is an inherent racists, or has been raised to fear black men just because they're black? And to take it one step further, now that ordinary citizens who aren't a part of law enforcement (like George Zimmerman) are literally getting away with murder, where's the justice? What is there to justify minorities and people of color continuing to have "faith" in the system? A system has been failing people like them for centuries. Given our current administration, it seems like things are only getting worse... history is literally starting to repeat itself.
We gave Jaiyce his name because (though we opted to spell it differently) it means "a healing" (in Greek), and "the Lord is my salvation" (in Hebrew). The names reflected what we saw in his face and personality --even at 2 days old-- peace, calm, and love. It terrifies me that at some point in his life he could be crossing the street, and anyone could look at our handsome smiley-faced boy and see him as nothing more than a threatening black man. And that could be it.
That Could Be My [...]
I was 24 when the news of what happened to Trayvon Martin gained national attention, 26 when Eric Garner was suffocated to death and Mike Brown was killed (while holding his hands up saying "don't shoot"); I was on the verge of turning 27 when Freddie Gray was killed while in police custody and Walter Scott was shot in the back (while running away from officers); and I'm sure there are many others not covered by the national news in between.
As I heard these stories, as much as it angered me in the moment, it always turned into a fleeting anger. An anger that came with the news of each brutal act towards another man or person of color, but slowly ebbed away like a receding tide with the change of each news cycle... at least until the next one happened. It's not that I didn't/don't care. It's rough hearing about these things when you consider that your people are being targeted. Constantly thinking about it can drive a person mad.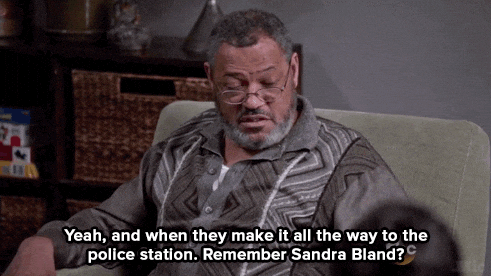 I kept thinking"that could be [my brother] Brian, Nick (my husband), or God forbid my father." How would the media portray them? Would the first thing mentioned be the fact that they're black men? Would they dig back into their history and try to find something making them to blame? If they couldn't find anything, would they then try to paint a vague story idea to justify any violence toward my black men, simply because their presence is seen as a threat? Would they bother trying to show them as the men they are: the things they do, the things they say, their impact on the lives of the people around them? Or would the media simply reduce them to just being a black man? A "threat."
I started to develop paranoia. So in an effort to stay positive and find some kind of peace for myself, I started disconnecting myself. But now as a mom to a boy who will someday become a black man, this is a fear that I'll never be able to disconnect myself from.
Final Thoughts
In these uncertain times all we can do is try to do better: we can pray, share our experiences, encourage open dialogue inter-culturally, and reach out to government officials in our areas to make sure we're being heard. By doing this we can gain an idea of what others around us are going through, and we can come into every/any interaction with a full cup of empathy. Oh how different life would be if everyone came with a perspective of "what if it were me?"
Anyways, those are my thoughts as well as I can explain them right now.
Just to be clear: I don't think all cops are angry racist killers, and I don't think that anything terrible will happen to us in our beautiful new home. We're covered in the sweet blood of Jesus, and I maintain a prayer of protection over our family. But I do think it's worth mentioning that these are all real thoughts that I've had, on account of becoming a mother to a black boy born in America.
If you're still with me, thank you for taking the time to take in my thoughts (I'm probably borderline rambling at this point); but now I'd love to hear some of your thoughts! Have you, or any one you know personally,ever feared for your child because of discrimination and race? Was there a specific incident or life-changing moment (like moving to a new neighborhood) that charged this fear? How did you handle it? I look forward to your sharing!
Until the next time stay safe out there. #LiveRi¢h and Happy Dream Chasing!
Xx,
E
#BlackBoyJoy #blackpower #50ReasonsILoveMyBlacknes #BlackHistory #racism #TrumpsAmerica #mommyoftwo #LiveRichMommy #momoftwo #stayhomemom #stayathomemom #newmom #MomBlog #MommyBlog #policebrutality #cops #AntwonRose #Trayvon #TrayvonMartin #GeorgeZimmerman #Walterscott #EricaGarner #MikeBrown #blackjustice #JaiyceReid #ArriaReid #Chatham #ChathamNJ #Blackish #blackandsexyTV