Thrifty Thursday: 1 Hat, 5 Ways
Happy Thursday Richsters!
Hope you're week has been treating you well-- and if not, I hope this Thrifty Thursday post does! :)
If you follow me on instagram then you've been seeing this hat ALL season long. Yup, that's right... this hat and I have loved hard all Summer '18.
I've always been one to make the most of what I have... especially as it comes to styling. It's never about how much clothes I can acquire to look good, but how I can serve up multiple ways to make the same thing look different. Creative styling is not only good for your sense of fashion, it's good sense for your wallet... especially if the pieces you're styling are thrifted! So check out some of the favorite ways I've kept cool and shady in this $15 hat that I snagged at Marshalls!
LOOK #1
I'm not exactly sure what the inspo for this outfit was, but I know that I worked it around this awesome [cold-shoulder] top. It was an amazing thrifty find that I happened upon during a random thrift haul at the Goodwill store in Harrison, NJ. I loved the style of the shirt, but then I saw the price and (in the the words of the rapper Fabulous), I then proceeded to "throw it in the bag!" Hahaha.
The jeans worn in the shot, are legit one of the [probably] 3 pairs of jeans that I have been able to fit into over the past 3 years. .. and trust me, they're on heavy rotation. lol But that's the beauty of styling! In pairing them with different types of looks and combinations you'd never know! I loveeeeee the way these jeans have been able to accommodate my fluctuating figure, and somehow they always seem to make my butt look great-- though I'm sure no one's looking. lol The best part is, I bought these jeans about 4 years ago at H&M on sale for $15. Talk about a great return on investment!
Cost Breakdown:
Shopping Deets:
Hat: Magid NYC (Marshalls)
Blouse: Forever 21 (Goodwill - Harrison, NJ)
Necklace: From my handmade line, (QuÉrica Jewelry)
Jeans: H&M
Belt: Perry Ellis (2nd Ave Value Stores - Baltimore, MD)
Shoes: Vince Camuto (Marshalls)
LOOK #2
This look is a nod to my "cool hipster" aspirations. lol The main part of this 'fit is a tunic -- that at one point used to fit me like a dress-- but these days it's bordering more on the lines of a top. lol I got it from the boutique Nu New York (formerly Callalilai), and the reason why it's priced as "free," (though it retailed for $69) is because I used to work there! :)
It's been said that "you gain something from every place where you've ever worked"-- whether you love it or not. Well, thankfully I loved working at this artisan boutique for the 3 years that I was employed there, but what I loved even more was the wardrobe that I developed! The boutique offered its employees a sales incentive, based on a points system. The more you sold, the more points you received towards earning clothes and accessories (I'm even talking genuine leather bags!) While I was working with this company, my entire wardrobe was poppin' (and free-ninety-nine). Even almost 6 years later, a good portion of my current wardrobe is still from the boutique; and every time I wear the pieces I get compliments from random people on the street.
I've never made a clothing purchase based on a trend because fads come and go, but staying true to your style is a fashion statement that is sure to stand the test of time. ...and keep your coins in your wallet. lol That's the beauty in buying clothes and building a wardrobe for longevity, versus buying into trends.
COST BREAKDOWN: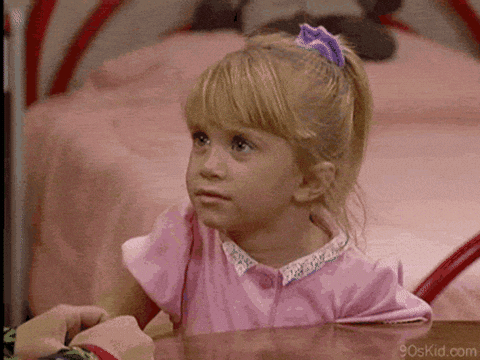 Lastly, let's talk about these amazing metallic chunky-heeled sandals I found in Kohl's! Ever since we purchased our home earlier this year, I've been minding my spending-- but I also realized that for the past 3 years I've been hoarding giftcards waiting for the "perfect" opportunity to use them. Don't judge me-- but it literally took me having close to no dollaz defore it dawned on me that any opportunity to save money is a perfect opportunity to use a gift card. DUHHHH! So I found my way to Kohl's and saw these fab shoes on sale for $35 from $70-- and I happened to have a $20 gift card. #WINNING! I tossed them in the cart, and kept on pushing, all the while doing my "I love saving money jig" that looks a little something like what's pictured above (with a twist). lol
Where I shopped the goods:
Hat: Magid NYC (Marshalls)
Necklaces: My line (QuÉrica Jewelry)
Tunic: Nu New York
Shoes: Apt. 9 (Kohl's)
LOOK #3
You may or may not remember this look that I detailed in another #ThriftyThursday post. You can find the full deets about the look HERE.
COST BREAKDOWN:
LOOK #4
This is another look that I featured in a Thrifty Thursday post back in July. This top is hands-down still one of my fave thrifty buys. You can learn more about this look HERE!
COST BREAKDOWN:
LOOK #5
This look is another one that reaped the benefits of working in retail (more specifically at Nu New York). I got this leather jacket while working there. It retailed for $350, but I got it for $0! Goodness, I love how the word "free" rolls off the tip of my tongue! To theis day, this leather jacket is still one of my favorites, and we've been rolling strong 6 years (and counting)!
Fun Fact: the shoes styled with this outfit were originally from Urban Outfitters (but didn't include the studs). They'd been sitting in my closet for years and I was about to toss them out before I decided to re-fashion them. So I decided to DIY them and add the studs (they were $1 each), and even did a youtube video showing how (you can watch it HERE)! This was one of my first ever Youtube videos. lol It's super long and awkward, but I think it's still fun to watch! haha
COST BREAKDOWN:
Check out the deets for where I shopped this look:
Hat: Magid NYC (Marshalls)
Leather Jacket: Nu New York
Baby Carrier: Baby K'tan (purchased on amazon)
Skirt: Liz Claiborne (Goodwill Store - Harrison, NJ)
Shoes: Urban Outfitters (DIY'd by me)
As you can see, what's old can always be made new, and a thrifty spin always wins! Tell me what you think about the looks I've shared here. I'd love to know your thoughts in the comments below. Do you have a thrifty buy that you've gotten you've worn to perfection, please share it with us, and tag us online #LiveRichMommyStyle! I'm on the hunt for a new fall lid-- so if you have any favorite brands or suggestions please drop them below too.
Until the next time, #LiveRi¢h and Happy Dream Chasing!
Xx,
E
#Mompreneur #thriftshop #thrifting #ThriftyThursdays #thriftstore #ThriftShop #niftythrifty #fashion #Fashiononabudget #Style #LiveRichStyle #StyleOnabudget #mommystyle #SavingMoney #moneysavingtips #SunHat #FashionWeek #Marshalls #NuNewYork #Goodwill #QuEricaJewelry #UrbanOutfitters #perryellis #vintage #VintageBag #authenticvintage #EricaLasan #fashionblog #stayathomemom #momoftwo #MommyBlog #MomBlog #mommybody #creativemoms