Yesthetics x Live Rich Mommy Collaboration
My siblings are so dope.
Hey there Riquistas!
If you've been following this blog or any of my social channels, then you probably know how important family is to me-- and also how much I stan for my siblings. My siblings are by far some of the most creative people, and they have helped push/encourage me so much in my creative journey. They've lifted me up, in some of my downest moments and continuously embedd in me the need to operate in my purpose.
They've always been my cheerleaders, and now they're becoming some of my creative partners! I've worked with my bother Brian in the past-- he's a graphic designer and helped me design the QuÉricaTV logo as well as my jewelry/video flyers.
QuÉrica Designs over the years (2010 - present)
But recently for the first time ever I collaborated with my younger sister, Christine!!! Christine is in the process of launching her brand Yesthetics, and during a recent trip down home to Baltimore she asked that I play as her muse. For years Christine had been asking to do my makeup, so this particular day as we were sitting in her apartment doing nothing, I figured "why not? Let's play dress up!" Iol What started off as a whim of an idea, turned into a full-blown production and collaboration all DIY'd and conceptualized by her!!!! My sister's creative eye is on 💯. Hair by her, makeup by her. Outfit sewn by her and styled by her. Concept by her. AND shot/directed by her!!! I couldn't be more proud if I tried.
DIY
I find it quite fitting that I'm sharing this particular #ThriftyThursday post today, given that it's International Day Of the Girl; Especially since everything about this shoot was DIY and orchestrated with #BlackGirlMagic. lol
This brings me to the #Thrifty Thursday portion of this post (I'm sure you were wondering what the correlation was). lol The day before, Christine did the faux locs that you see me wearing in this post. Usually when I get my hair braided I spend anywhere between $100-$120 to get my hair braided. Earlier this year I wrote a blog post sharing my first time ever doing my hair on my own. Since then I've taken to Youtube and instagram and have joined in on the world of DIY naturalistas. I'd always wanted to try faux locks but I was never a fan of the potential weight and $200+ pricetag, (not to mention the hours-long process) that came with their installation. When I discovered that there was a crochet version of faux locs, and that they could be installed individually without cornrows I was floored! And when I found out they could be purchased online I was like: Whaaaaaa?!?!
So I took to amazon and purchased my bundles 6 packs of hair for $32. In my experience, making straight lines as I'm parting my hair has always been a challenge. So I opted to wait until I went down to Baltimore so my sister could help me part the twists needed to crochet the locs in. After a late night and hours later... BOOM #IssaNewDo. lol The best part is that outside of the time-- pero, I would really count that sibby time (check out my Baltimore Insta-story highlights)-- we only used 3 of the six packs of hair. So all together, I only paid $16 for this hairstyle! Best believe I'm going to do it again. I'm absolutely loving these locks! They're lightweight, they're beautiful, but most of all they were inexpensive and continue to look great even as time passes and they start to look shabby. haha! What's not to love?!
The hair was just the first step in bringing this collaboration to life. Right after we finished my hair (about 4 hours before the time I was supposed to be boarding my bolt bus back to New Jersey) is when the inspiration for this sibby collab struck. Within that time, my sister managed to give me a spontaneous full-face beat (with no planning), pull 3-5 different styled looks many of the piece in which she'd sewn herself (she started teaching herself how to sew last year), scouted a location, and photograph those same looks-- all while we had baby Jaiyce in tow! ...Oh, and I forgot to mention, we had a whole hour left to spare before I had to get on my bus. ...NBD.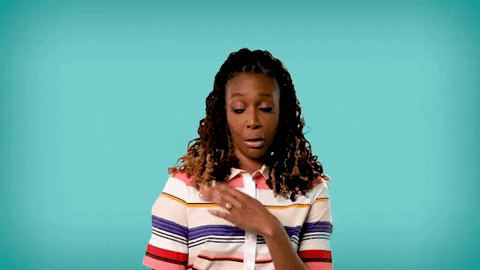 Thats's that #BlackGirlMagic!
You can see part of the coming together of the day's happenings (and this look) in the gallery below. The look shared here is just one of the ones shot, and this is just the beginnings of the awesome stuff that we will be collaborating on in the years to come. So that said, I look forward to sharing more and I hope you subscribe and follow our pages so you don't miss them!
I'm proud to say that all of my siblings are creatives. It's just amazing to see how God has taken His time in bringing us to this point of recognizing and utilizing our talents and gifts. Keeping that in mind, please FOLLOW her page @yesthetics_ so you don't miss out on the good-good she'll be dropping before the end of the year! :) She's been creating some REALLY cool stuff.
Who are some dope people in your circle that inspire you, or that you'd like collaborate with? Let them know and start taking actionable steps toward making it happen. Who knows what kind of magic YOU will create!
#LiveRi¢h, and Happy Dream Chasing!
Xx,
E
#EricaLasan #ChristineLasan #Yesthetics #BrianLasan #BeverlyLasan #NationalSiblingDay #siblings #SiblingCollaboration