5 Ways Natural Parenting Can #LevelUp Your Parenthood Journey
Hey there Live Rich Fam!
I'm sure you've heard of the term "Natural Parenting." The term goes by a plethora of other names: conscious parenting, gentle parenting, etc. According to the Natural Parenting Network, "'Natural parenting' is based on a desire to live and parent responsively and consciously." The site then proceeds to give a list of practices and ideals that fall under the umbrella of natural parenting.
While the idea of that list is cute and all, my feeling towards natural parenting are pretty simple. Like all things, I think it simply comes down to the golden rule of leading with love and treating others (most especially your baby) as you would like to be treated. In my experience I do think that there is a misconception about natural parenting is that only stay-at-home parents (or people who have tons of time on their hands) can consider this form of parenting.
Let me tell you, this is not the case. Natural parenting is not only beneficial to the babies (who are highly responsive to parenting done in this manner). But contrary to what many people may believe, natural parenting is also extremely beneficial for the parents who implement it. Especially busy, entrepreneurial parents, who are constantly on the move!
Natural parenting involves much less than many people probably think. In all actuality, natural parenting really just requires a little patience, tons of love, and coming to grips with having a lot less personal space. ...In other words, just basic parenting. lol For those of you who think you may need some assistance, no worries-- there are a couple of tools that can be quite helpful to have in your parenting arsenal: breast feeding and baby wearing!
1) Natural Birthing
I'm not sure how many woman (if any) would rather go under the knife and get a C-section rather than push a baby out naturally. If I'm being completely honest, I loved being pregnant and had no complaints or considerations about becoming a parent... that is, until the week of my delivery. For some reason, at that point it dawned on me that the baby (who had been so cozily snuggled up in my womb or months), would have to make an exit-- and a pretty excruciating and painful one on my end. All of a sudden I was terrified! And for about 2 seconds (the entire pregnancy I'd wanted a "natural" birth) in considering the pain that would come with labor, I had the fleeting thought that maybe a C-Section wouldn't be too bad. lol
Thank God it was just a fleeting thought.** In all actuality, having a C-Section leads to far more potential postpartum complications than natural birth. You're in the hospital a little longer post-delivery, and because you've undergone major surgery -- I'm talking moved/removed organs in order to retrieve your baby-- you're less likely to want to be on your feet. Sure, I would be missing out on labor pains (bringing the baby into the world), but then I would have to deal with the post-op recovery process. And from what I've heard (from my mother who delivered all four of us via cesarian) that is far more painful... and you have to worry about recovering while caring for yourself and your baby.
In birthing our babies via vaginal delivery, I was walking laps around the maternity ward the next day, and out of the hospital a day later! So if you can, please opt for a vaginal delivery, so you can get back to moving-and-shaking in no time!
**I recognize that not all moms have the option of doing a vaginal delivery, this doesn't make their birthing story (or delivery process) any less. What's most important is that both mom and baby come out of the hospital healthy and whole. I'm just sharing what my experience and thoughts at the time were. :)
2) Breastfeeding
When it came time to nourish our children, breastfeeding came as a no brainer to me. As long as my body was able to produce what was necessary to sustain our child I was doing it. There are so many benefits to taking part in this aspect of natural parenting: first and foremost is the fact that its super healthy for improving the health of both the baby and the mother. I did an entire blog post highlighting many of the positive results of breastfeeding-- you can read about them here.
But if you need additional reasoning, let's talk about the bottom line: Breastfeeding saves money!!! Who doesn't want to cut costs after starting a family. Your body is capable of producing as much nutrition as your baby needs, it's immune boosting, can help you regulate your post-baby figure/ corresponding weigh, and it's free! Coming only at the cost of your time-- which let's not get it twisted-- your time, is money. This is a sentiment that I've shared time, and time again; and a point I had to hammer through to my own husband. So make sure your significant other, husband, boyfriend, in-laws (or whoever else) don't throw out your pumped breastmilk because they're uneducated about how breast milk is stored, or think it "looks funny". lol Most of the time it's supposed to look like that. :)
While the reasons above are probably reason enough to consider breastfeeding (as a form of natural parenting), my favorite reason by far-- is the fact that you don't have to carry, prep, or wash out bottles! I don't mind washing dishes, but there's something about washing baby bottles that I particularly hate. It's weird. I don't know if it's having to take them apart, the little parts, the two-step process of washing and then sterilizing them or what-- but I find it all annoying. Especially when I can just pop my boob in the baby's mouth to do the same thing. No need for bottle warmers, I can do anytime/anywhere, aaaaand I'm burning calories at the same time?!?! Sign me up!
Don't get me wrong, the breastfeeding journey at times can be a trying one, especially at the start; but if you're able to stick it out to get to the other side, the benefits far outweigh the initial struggle.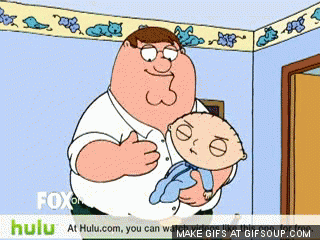 HA! If only this was a real possibility... I doubt fathers would be so willing. lol
3) Baby wearing
Discovering baby wearing was the beast thing to happen to my parenthood journey since well... becoming pregnant. lol Baby wearing changed the game when it came to my ability to mother, move co-dependently (with a little one) without struggling, and regaining my social life. ...and that was just as a mom as one.
After giving birth to our second child, Jaiyce, baby wearing helped me regain my freedom! There is so much that is involved in this-- namely my collaboration and brand ambassadorship with one of my favorite baby carrier brands, Baby K'tan. So with that in mind, not only did baby baby wearing help my freedom by allowing me to nurture our kids by keeping me hands-free (and hand-holding accessible for our toddler, Arria) as a mom -- it literally opened the doors for my new business as a blogger and helped me gain a little more financial freedom as well. You can read more about that in this blog post.
But by far, the best advantage to baby wearing as a part of my "natural parenting" journey has really just been the able to remain mobile and maintain my social life. Though we love our kids, as stay-at-home parents, we still need to interact and engage with people our own age. It's healthy for us to maintain our friendships, and it's good for the kids to be around other people (for their social development) as well. Baby wearing has been essential in totting around town and creating mini-adventures with both kids, and with ease-- thus making me a happy mama. ...And when mama is happy, everybody is happy!
4) Work-Life Balance / Personal - Work Balance
A couple of months ago I wrote a whole blog post about the importance of balancing our creative interests with parenthood-- you can read that blog post here. While the point I made above in point 3 highlights the importance of nurturing our relationships, the same can be said about nurturing ourselves, our personal interests/hobbies, and our work life.
Baby wearing has helped my entrepreneurial journey a ton because I'm able to mom-on-the-go. I'm not limited to where I can go with both of my kids. I can feed my infant no matter where I am while walking, and then most of the time he goes to sleep right after. So I don't have to worry about disturbing him in his comfortable and cozy state.
At this point in my motherhood journey I even wear Jaiyce when I'm walking about at home. In the moments when I find that I need Jaiyce to sleep so I can do things like clean up, laundry, or even blog, I wear him on my back. Almost without fail, within 10 minutes or less he's knocked out. Doesn't get any better than that!
5) Exercise
I recently shared that I'm currently in the process of getting back into a "gym" regimen.
But for the past 9 months my "gym" and form of exercise has been chasing after my toddler and infant-- and making sure they're alive and healthy. Doing so burns a ton of calories.... many of which are probably burnt my brain trying to think of ways to keep both of them occupied throughout the day. lol
In addition to going on walks, dancing inside, carrying/wearing them, and breastfeeding them there are tons of ways you're subconsciously "working out" as a natural parent. I've shared some of them in this video that I did in collaboration with CaféMom and Little Things. But in all honesty, when you take the time to consider it, EVERYTHING you do with kids requires a pouring out of energy-- so in essence, technically it can be said that parenting itself is a form of exercise, right?!?! lol You're never limited to where (and when) you are a parent, so baaaaasically you're constantly exercising on-the-go! :)
I know, I'm trying it. lol
Well fam, there are a ton of other ways that natural parenting can help you bawse up as a parent-- not only for your children, but more importantly for you as an individual. These are just a few of the reasons behind how natural parenting has supported me in my journey as a new mom.
You've heard my spiel, but now I want to hear from you! What have been some of the most beneficial parts of natural parenting in your experience? Share them in the comments below, or over on our facebook or instagram pages (and if you haven't yet, please "follow" us while you're at it)! In the meantime, you can also watch the video I created below, sharing all of the reasons why I love the Baby K'tan and how it has helped me in my life as a Mom-on-the go. pssst: If you're considering getting one for yourself (along with some other goodies), click here to save 20% on your lowest priced purchase!
Until the next time, #LiveRi¢h and Happy Dream Chasing!
Xx,
E
PC: Nicholas Reid
#naturalparenting #consciousparenting #gentleparenting #csection #cesarian #vaginaldelivery #breastisbest #BreastfeedingAwarenessMonth #BlackBreastfeedingWeek #breastfeedingawareness #Breastfeedingweek #breastfeeding #normalizebreastfeeding #whatisnaturalparenting #babycarrier #ergobaby #feedingbaby #babyktan #babywearing #babyktan #babywearing