9 "Rather, as it is written: 'No eye has seen, no ear has heard, no heart has imagined, what God has prepared for those who love Him." 10 But God has revealed it to us by the Spirit. The Spirit searches all things, even the deep things of God'."
Hey there Ri¢hster fam!
Since 2018 helped me establish my need to lean into trusting the Lord's plan/guidance for my life, I'm making 2019 my year of surrender. This declaration is planted in the bible verse found in 1 Corinthians 2:9-10 (shared above).
This verse has really been speaking to me given all of the great things that took place last year with me just dipping my toes in the water. Imagine what could happen if I fully submerse myself in his word, surrendering, and allowing Him to wash over every aspect of my life and being. Look man, I'm trying to experience (and rest) in total peace that transcends all human understanding... and the message I've been getting through various methods of confirmation, it that this is what has to be done. lol I have so much more that I want to share in regards to this declaration, and today I will! ...In addition to sharing some specific goals, and doing my 2019 vision board reveal-- so keep reading!
2019 is About All-Around "RI¢H" Goals
These are a couple of the key goals that I have currently set and envisioned for 2019 (as the Spirit leads); what I learned last year was that God does His work, but you really have to appreciate and respect His timing. lol So we'll see what happens, and how it all happens.
Last year I put a lot of numerical specifications on a lot of my goals. Yes, this can be helpful in a lot of ways, but it can also be very limiting considering the God we serve-- His capabilities span so much farther than the box we put Him in. Who knows what seeds have been planted, and how He's still working on my behalf to set up some of the blessings I envisioned for last year. So this year --though I have an idea of certain numerical figures I'd like to associate with some of the things listed below-- I'm choosing to operate in gratitude and trust that the Lord will provide all that's needed in bringing these things to fruition. The numerical piece will eventually come into the picture, but through everything the goal is to give God the praise and glory-- so here it goes!
FAITH
Staying in prayer and seeking constant communication with God FIRST

Building a habit of daily devotions, journaling, and prayer

Continue reading to finish the goals of reading the entire bible (based off of my goal from last year)

Start serving an active role in the church
HEALTH/WELLNESS
Working my way to a predominantly plant-based diet (at least 4/7 days of the week)

Self-care:
Skincare: Weekly face masks

Hair care: figure out what we're doing with my hair (locs?)

Nail care: weekly nail painting; mani/pedi at least once a year

Treat yo'self Massage/spa treatments bi-monthly (even if in-house!)

Losing 10 pounds of baby weight by Jaiyce's 1st birthday

Losing all of baby weight -- to reach a healthy weight of at least 140lbs by 4/1/18.
Regulate my way to a healthy sleep schedule (7 hours/night)

Lessen sugar intake (2 days a week)

Workout 3-5 days a week

Beautify living space -- maintaining a happy, colorful, nice smelling, clutter-free, organized, and functional work environment
FAMILY
Relationship: monthly date night and involved support of each other's personal projects

Enroll Arria in school by age 3

New Car - A (cute!) reliable modern vehicle with ample space for the entire family . lol ...I never thought I'd see the day where I was team #minivan, but alas I am so here for it!

At least 48 memorable family experiences with the kids
Lead a more patient and loving parent-hood journey (John 5:19)

At least 1 per week

Develop habit of undisputed time with kids (2-3 hours before bed)

Get kids on sleep schedule of 7:30 PM bedtime (in bed, lights out by 8)
Plan a Beach Party for my 32nd bday with the entire family -- home vacay!

Girls Trip with my mom and sisters
GIVING BACK
Volunteer at least 2 times a month
Womens and kids shelters

Donate and give more to avoid clutter at home and help others
Promote more black owned businesses/experiences
FINANCES
Secure a God-ordained job where I'm in line with HIS purpose for my life, well compensated, and utilizing my given gifts/talents -- (PRAYER POINTS!)

Establish a rainy day fund

Pay off all credit card deb

Start working towards saving to consolidate and pay off a small student loan
CAREER/WORK
Start building a TEAM

Launch Live Rich Movement (LRM) sit

Create 2 Podcasts!

Have a regular video series (or partnered with a media outlet) outside of my own platforms where I'm being compensated at a desirable rate

Paid Partnerships with at least 3 brands in line with the Live Rich Movement/ Live Rich Mommy brand

Host at least 2 LRM events (focused around core Live Rich Mommy values): Business/Entrepreneurial, Health and Wellness, Fitness, Self-Care, Fashion and Beauty, Financial Wellness

QuÉrica Jewelry: Old money Collection -- getting back to my roots and using the line to support community both here (and abroad)

See More / Be More - Baltimore!

Naija doc (started in 2014) outline and rough draft
DREAM BIGGER
Nigeria (there's so much involved with this that I can't get into now-- but just putting it out there!) :)

A Family Vacation with The Lasan Crew

Sing more! -- Start doing more open mics/live performances (at least 1 every other month)

Complete reading and filling out the book "5" (before 32nd birthday) to give clarity on God's purpose and vision for my life

Reignite my love for art in an adventurous way!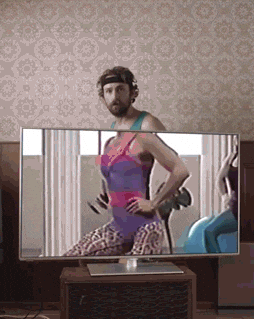 I'm still in the process of crafting my vision board-- unfortunately it's taking a lot longer than expected this year. But I'm trusting God's timing, so once it is completed I'll be sure to loop it back into this post.
Don't worry, I'll make sure the transition is as seamless, as this person's ability to multi-task and look great in a leotard and leopard print leggings. lolol
In the meantime, there it is; my 2019 vision! It took a while to get the vision/goals down on a board, but I finally made it happen... and right before the month of February. So I'm really looking forward to what he next 11 months hold. That said, what is your theme/vision for 2019? Share it (along with some of your goals) below in the comments, or over on our Facebook Page! :)
Until the next time, #LiveRich and happy dream chasing!
Xx,
E
#2019 #2019Vision #NewYearsResolutions #NewYear #HappyNewYear #NewYearNewGoals #Goals #2019Goals #womenoffaith #entrepreneurialwomen #QuEricaJewelry #naturalwellness #healthandwellness #wellness #liverichmovement #GatherGreene #momhealth #mommyoftwo #stayathome #stayathomemom #1Corinthians29 #ArriaReid #JaiyceReid #MommyGoals #BlackMomBlogger